WHAT HAPPENED
1462 for 73 off 143 overs, with 98 4s and 24 6s!!  The Final decided off the last ball for the third time in four years!  The 13th Cheriton 6s again provided exciting non-stop cricket on Bank Holiday Monday.  After 15 matches, and over 10 hours action, it was hosts Cheriton who reclaimed the Trophy for the first time since 1998 with victory over local rivals and holders Tichborne Park.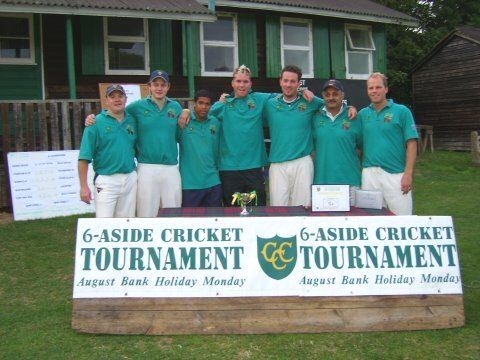 At 7am it was raining but it quickly stopped. By 9am we had sunshine and clouds and got off to a promptish start at 9:15.  There was one very light shower but no stoppage of play.
The spectators were suitably nourished by teas, cakes, beers and hog roast. 
There were a few umpiring moments but no ball tampering only several lost ones.  Why do players occasionally have such a different "video recording" of the last ball compared to the umpires? 

There was an interesting failure to read the competition rules by two teams. They had some points transferred to the opposition for using the same opening batsmen in more than one group matches.  Each team had to use six batsmen to open their three games.